❤ Love padlock, we had one in sea cliff bridge in Sydney before, unfortunately it was pulled off by the government sometimes last year. So I decided to be romantic again and lock our love in Paris.
Today is the last day in Paris. We got up very early and tried to spend the maximum time here , however, our last day of mini break in Paris wasn't as smooth as I planned as lots of troubles we had on the way to Pont Neuf Bridge .
Why?
The reason is we got up too early and the locks were all removed few months before we arrived, we could not find the bridge.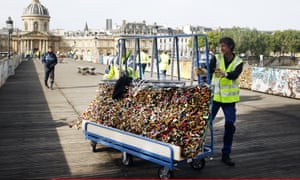 In addition, every buildings looked so close on the map, but it's not!! As a result, we probably spent double time on travelling around.
9 a.m
I was too exhausted to lock up our love now. So James and I decided to hug each other in front of a random bridge where has somewhere for our lock.
 "Yes, it's here babe!"  I guess James  said that to me.
LOL so here you go!
10 a.m.
Notre Dame Cathedral
The Notre Dame Cathedral was built a Gothic architecture and stood in Paris since 12 centuries. As one of the beautiful masterpiece in the world, the dedicated sculptures and arts definitely won't disappoint you. The only thing may distress you is the queue. There is nothing more surprise to see the crowd from 8 a.m . everywhere in the tourism spot in Paris.
It's free to visit the place but payable tickets for going on the top of the cathedral. We almost went on the top as we lined up for almost 1.5 hours. Sadly, I gave up in the end as the rain and coldness started killing our good mood.
Do you know what is more attractive next to that long long long forever queue in Paris?
XD Yes, yummy Franch Crepes!
Finally,  we had to skip lots of places for our flight to Prague in the end of the trip. James was't really happy about it as I didn't feed him well except putting him with cramps in the dark cold lonely Paris street next to the pharmacy.
I am sorry dear. I will make a better plan for our next solo trip. I truly hope he could be happy when he slept with the blue sky and got up with the city of magic, Prague.
Thanks to my dear for the lovely adventure. We promise that we will come back again.
Bye bye, Paris!